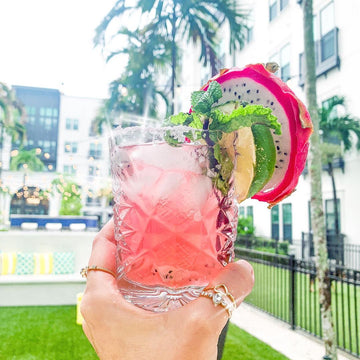 Who is ready to try this delicious, refreshing healthy cocktail?! Literally with no calories, no carbs, and no sugar... it's the perfect sway to celebrate national margarita day without the guilt. Check out below for how to make this SO EASY in your own home.👇 
Yay! You've got all your ingredients now it's time to mix it up! 
DID WE SAY 0 CALS, O CARBS, 0 SUGAR?!
Ingredients:
1 Shot White or Gold Tequila
1/2 Shot Limoncello
1/2 Shot Triple Sec
Katy's Dragonfruit Tea
Ice
Sugar Rim
Fresh Dragonfruit Garnish or Ice Chunks
Instructions:
1. Pour a layer of sugar onto a small plate (preferably one just slightly larger than the top of your margarita glass). Before you dip the top of the glass into the sugar make sure that the rim is wet. Roll the edge of the glass from side to side to catch the sugar. Add ice cubes to your glass and set it aside.
2. Make the Dragonfruit Tea either hot (if you're on a time crunch) or cold brewed in the fridge. Spoon the tea leaves into a glass, pour in water, and steep. Looking for a tea infuser? Click here. 
3. Fill a small cocktail shaker with ice. Pour in the tequila, limoncello, triple sec, and the dragonfruit tea. Put on the lid and shake for 30 seconds. Strain the liquid into your glass and garnish with a slice of grapefruit.
Cheers, Babes!
xo -Katy