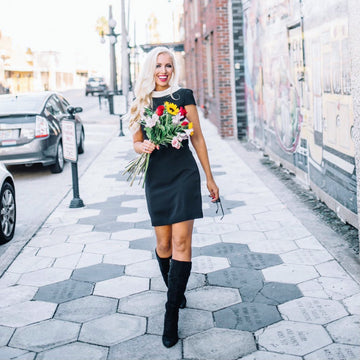 Hello friends!

I am so glad you visited my website. I hope to have you back many times to come. This is my first blog post (ever). I hope to share with you my events and adventures as being a young entrepreneur and coffee gal in our wonderful city of Tampa.


A little bit about myself...

Born in KATY, Texas. Raised in Bradenton, Florida. Graduate of the University of South Florida with a degree in Accounting and Business Management. Lived in the wonderful city of Tampa ever since. Being a sorority girl (Alpha Delta Pi- Epsilon Lambda!) I am a lover of all things colorful, which is a big inspiration behind the look I wanted for my coffee brand. I feel every other coffee is black, brown, and serious. I wanted to bring some color back into coffee and "make the daily grind a little more fun" as my mission statement states. For fun, you can find me reading, relaxing on the beach, spending time with loved ones, or badly attempting to become an Iron Chef (lol).

Why I started roasting coffee?

My family has been in the coffee business for over 37 years. All this time we have spent building other people's brands and names. It was always my dream to build something that is truly my own. So I started thinking… what are some of the things I love most in life? Coffee. Food. And Giving Back. My passion for giving started at the young age of 16 when I opened my own non-profit charity organization called "Royalty for Reading." I partnered up with the Food Bank of Manatee to put reading books in all food orders for the children in that family. To date, I have collected over 25,000 books for this cause. That got me thinking, what if I could help charities for different causes? Learning more about amazing giving, people, and organizations all over town. That's when Katy's Coffee was born. Signature craft roasted coffees giving back a percentage to awesome charities I find with every cup sold. Oh wait, almost forgot the FOOD aspect of it! Currently, I am primarily selling my coffee wholesale to restaurants. So follow my adventures as I journey all over town highlighting my wonderful restaurant customers and what they have to offer through food blog posts on my page. Showcasing the BEST food in Florida!

My hopes for the future

There's nothing that makes me happier than being a coffee girl. Whether it's your morning cup of coffee that gets you ready for the day or helping someone in need- I want that happiness to be spread to others. I hope to build a successful woman-owned business surrounded by great people. Explore new restaurants and try new things. Educate myself and others even more about everything coffee. Most important, give back in any way I can. Who knows where this ride will continue to take me but I am ready for the adventure!