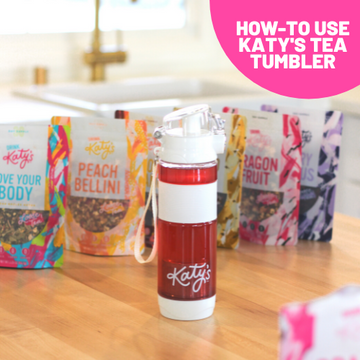 Get your daily hydration in the most delicious way! Brew your favorite loose tea, bagged tea, or fruit infusions anywhere in Katy's loose leaf tea infuser tumbler. Our tea bottle is here to support your active lifestyle from the office, to the beach, or even to the gym! Plus, when infused with our teas, you are also enjoying the all wonderful benefits of tea.
Our tea tumbler is TRITAN material, BPA, BPS, EA-FREE, and will not shatter like glass. It has a lockable flip top convenience to carry in a bag or on-the-go without worry of spilling and you can enjoy an easy sport drinking spout to make sipping much more convenient. Our tea tumbler is a food-grade stainless steel infuser with ultra-fine holes so no loose tea escapes through and affixed to the bottom for a better and stronger brew. Oh, and we cannot forget about our wrist strap for easy carrying when when running errands, at the gym, or when you're going for a walk. Available in white, grey, and pink!
"The BEST tumbler to brew tea anywhere!" - Tea lovers everywhere 
How-To Use Katy's Tea Tumbler
1. PICK A KATY'S TEA
2. SCOOP INTO THE INFUSER
3. FILL WITH HOT OR COLD WATER
4. TAKE ANYWHERE && ENJOY!
100% RISK-FREE GUARANTEE 💖
Drink Katy's has proudly been in the tea industry for over 40 years in sunny, Florida! We are so confident you are going to LOVE your new tea tumbler with infuser that we offer a 30-day 100% happiness refund guarantee. If for whatever reason, our tumbler bottle isn't perfect for you, please just let us know. Get your PARTEA STARTED worry-free with Katy's today!
Katy's Tea Blends
Detox with our Love Your Body Creme Brulee Cleanse, Refresh with our fruity herbal teas of Peach Bellini, Dragonfruit, Blood Orange, and Berrylicious, or Indulge with our Choco Chip dessert tea. Click here to shop all of our tea blends on Amazon!
Cheers! 💕
-THE DK TEAM