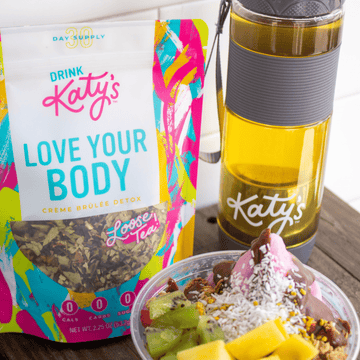 A MATCH MADE IN DETOX HEAVEN 

😋
I checked out my favorite Acai shop to bring you this match made in detox heaven... Katy's Detox Tea + a Sweet Soul Acai Bowl
TEA-RIFFIC BENEFITS:
✨CAFFEINE FREE
✨KID FRIENDLY
✨HANDCRAFTED
Plus, when you drink tea you easily get your daily dose of vitamins, nutrients, and
antioxidants. Tea definitely m
akes drinking water so 

much

 
more fun just by adding flavor. 
We can't forget about fruits when our bodies are craving some delicious and healthy. Our go to is açaí bowls jammed packed with vitamins and nutrients.
If you're local to Tampa, you need to check out Sweet Soul for the tastiest (and cutest!) fruit smoothie bowl. And, while you're at it, you can snap some cute pics to the 'gram. Look at the cute pics we took!