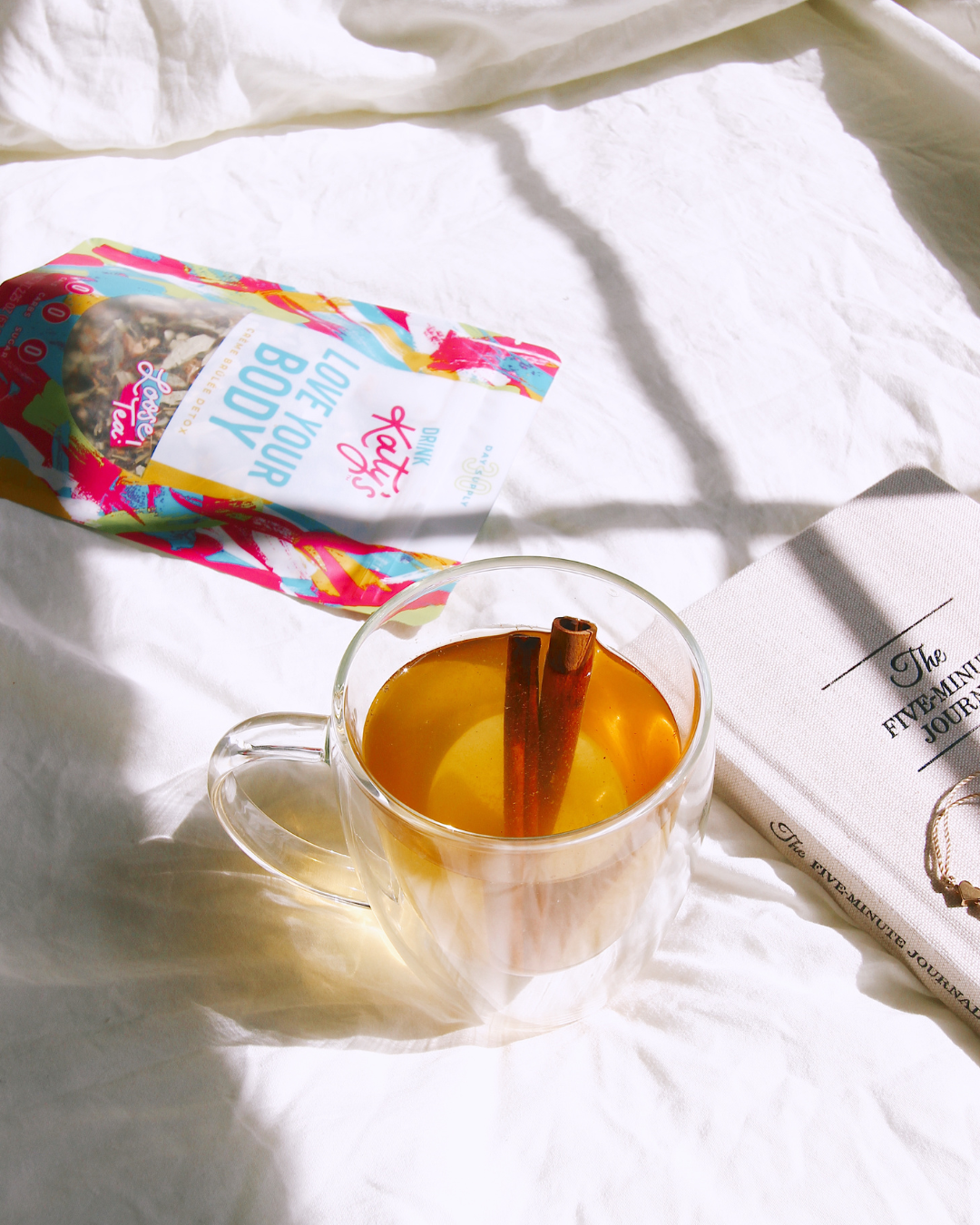 Love Your Body Tea (Subscribe & Save)
Sale price
$22.95
Regular price
Green Tea, Oolong Tea, Yerba Mate Tea, Senna Leaf, Dandelion Root, Safflower, Ginger Pieces, Cinnamon Pieces, Apple Pieces, Orange Peels, Organic Creme Brûlée and Cinnamon Flavor
Green tea, offers a range of potential benefits, including antioxidant-rich properties that support heart health, weight management, brain function, disease prevention, diabetes regulation, anti-inflammatory effects, dental health, and skin health.
Oolong tea, presents potential benefits including aiding weight management, supporting heart health, regulating blood sugar, providing antioxidants, promoting digestive and bone health, enhancing mental alertness, improving dental and skin health, and assisting with stress reduction.
Yerba mate tea, potentially provides benefits including antioxidants, improved focus and energy, weight management support, digestive and cardiovascular health, immune system support, stress reduction, and potential mental well-being enhancement.
Senna leaf, potentially offers short-term relief from constipation through its laxative effects.
Dandelion root, potentially provides benefits including digestive and liver support, diuretic properties, rich nutrient content, antioxidant activity, blood sugar regulation, immune system support, skin health promotion, weight management aid, bone health support, and potential prebiotic effects
Safflower, including its oil and flower extracts, potentially provides benefits such as promoting heart health, aiding weight management, offering anti-inflammatory and antioxidant properties, supporting skin and hair health, aiding in blood sugar and blood pressure regulation.
Ginger pieces, offer potential benefits including aiding digestion, reducing inflammation, relieving nausea.
Cinnamon pieces, offer potential benefits including blood sugar regulation, antioxidant and anti-inflammatory properties, heart and cognitive health support, digestive health enhancement, potential weight management aid, antimicrobial effects, improved blood circulation, and bone health promotion.
Apple pieces, offer potential benefits including digestive health support, heart health promotion, blood sugar regulation, weight management aid, antioxidant properties, bone health support, hydration contribution, potential skin and cognitive health benefits, reduced risk of chronic diseases, and respiratory health improvement.
Orange peels, offer potential benefits including supporting digestive health, providing antioxidants and vitamin C for immune and skin health, potentially aiding heart health, blood sugar regulation, weight management, and anti-inflammatory effects.
Detox teas, are herbal blends that are often marketed as having various health benefits, including detoxifying the body, aiding weight loss, improving digestion, and promoting overall well-being. They offer benefits such as providing hydration, antioxidants, digestive support, potential weight management aid, mood improvement, and liver support.
Day 1 - Day 14:
Gather Your Supplies: Make sure you have our Love Your Body Detox Tea, a kettle or pot for boiling water, a cup or mug, and a tea strainer or infuser. Or a Katy's Tea Tumbler if you wish you cold brew and drink iced. 
Boil Water: Boil enough water for one cup of tea. You'll typically need around 8 ounces (240 ml) of water.
Prepare the Tea: Place two to four teaspoons of loose leaf tea into the tea strainer or infuser. Put the tea strainer or infuser into your cup or mug.
Pour the Water: Once the water has reached the desired temperature (usually around 160°F to 175°F or 70°C to 80°C), pour it into the cup over the tea strainer.
Steep the Tea: Allow the tea to steep for 3 to 5 minutes. 
Remove the Tea: After the recommended steeping time, carefully remove the tea strainer or infuser from the cup.
Enjoy: Your cup of Katy's detox tea is ready to enjoy! You can drink it as is, or you can add a natural sweetener like honey, stevia, almond milk, or creamer as desired.
Tips:
Consistency: For the best results, aim to drink your cup of Katy's detox tea at the same time each day.
Hydration: Remember to stay hydrated throughout the day by drinking water in addition to your detox tea.
Diet: While doing the detox, try to maintain a balanced and nutritious diet to support your body's natural detoxification processes.
Listen to Your Body: If you experience any adverse reactions or discomfort while using the detox tea, discontinue use and consult a healthcare professional.
Note: Before starting any detox program, including the 14-day detox with Katy's Love Your Body Tea, it's important to consult with a healthcare professional, especially if you have underlying health conditions, are taking medications, or have specific dietary needs.
Katy's Love Tea Infuser: Scoop two teaspoons of tea into our silver or gold love tea infuser and steep in hot to boiling water for 3-5 minutes.
Katy's Tea Bags: For hot or cold brew - brewable in a single cup or large batch pitcher to gallon size to keep in your fridge. Follow instructions on bag.
Katy's Tea Tumbler: Scoop four teaspoons of tea inside bottom infuser and fill the top with cold water. Let steep for 3-5 minutes then enjoy your iced tea to-go!
Katy's Disposable KCups: Scoop two teaspoons into iFill Kcup compatible in all KCup machines for a convenient single cup hot tea. Then dispose.
Katy's Reusable KCups: Scoop two teaspoons into the pink reusable KCups compatible in most KCup machines for a convenient single cup hot tea. Clean and reuse.
...Or your own method!
All Natural Ingredients
100% Vegan
Keto
Non-GMO
Gluten-Free
Dairy & Soy Free
No Chemicals or Preservatives
No Artificial Coloring or Flavors
No Fillers or Additives
Light Caffeine (About 30 Mgs)
For Adults Only
No Sugar, Calories, or Carbs
For Adults 18+ Only. Not for children, pregnant, or nursing mothers. Contains Senna Leaf, an all-natural light laxative. Consult your physicin prior to use if you are taking medications or have any medical condition. Do not use if you have or develop diarrhea, loose stool, or abdominal pain as senna leaf can worsen these conditions. May cause temporary lightheadedness, fast heartbeat, or nausea. If you feel unwanted symptoms, discontinue use. Not for long-term consumption. Statements regarding dietary supplements have not been evaluated by the FDA and are not intended to diagnose, treat, cure, or prevent any disease or health condition.
Love Your Body Tea (Subscribe & Save)
Sale price
$22.95
Regular price
Detox without feeling uncomfortable!
I've been looking for a detox tea for a while. I was never able to find one that would work and be gentle enough for me to proceed throughout my day. I've been having this tea once a day for about a month and I can feel a difference in my energy. It gives me enough energy without making me feel overly caffeinated. Furthermore, it has been a good addition to my morning routine after I workout. My advice is to anyone who drinks this tea is to expect bowel between an 1hr-1.5 if you plan to go anywhere. :)
If you're searching for the perfect detox tea... you've found it!!!
If you have a sweet tooth but don't want the extra calories from your cravings, THIS tea is for you! This tea allows you to have your sweet tooth craving while also still drinking water! I know, I know... I've tried all the other detox teas too and you're wondering if this one ACTUALLY works... take my word for it, it DOES! So pleasantly surprised that there is actually a detox tea out there that actually tastes good! Will absolutely be buying again!
Delicious and healthy!
I'm a coffee addict and I wanted to stop drinking it for various health reasons, but it was so tasty and delicious. So I switched to this green tea instead of quitting caffeine cold turkey and I'm so glad I did. It's so delicious that I didn't feel like I was missing out on my morning treat. And also, combined with a light workout a couple of days a week, this tea helped me drop a couple of pounds around my belly.
Welcome to our community! Send us your at-home photos to be featured here.