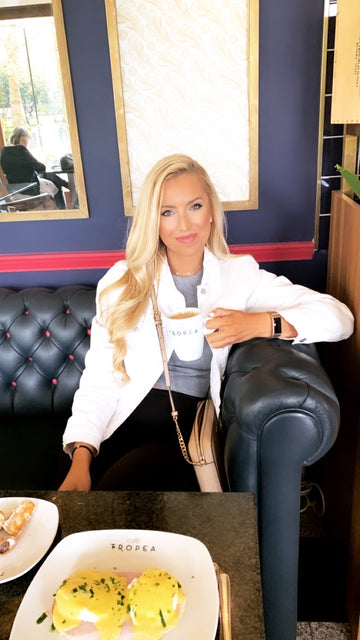 Hi Travel Lovers!
Today I am so excited to hop on the #brewblog to share with you more about my magical experience traveling in London and the amazing coffee shop I found. It was more than just the cup that made this a magical experience... to me coffee is about community, the people we meet, and the stories we remember. I hope this little tale of what happened at Cafe Tropea will inspire you, too! 
I stumbled upon it while walking a beautiful park in London. I had a few minutes to spare so I thought why not grab a cappuccino and relax after a long day of traveling before I venture back out. 
The cafe was adorable with all kinds of fresh pastries, a la chimballi espresso machine, and more. I ordered an americano, eggs Benedict, and a canolli because they were handmade and looked DIVINE. 
There were mostly men in the place, so I sat down next to an old lady. After having a few short minutes of enjoying my brew - I struck up a conversation with her. Two hours later, it was something I will never forget! 
We talked all about life, love, where she has traveled, where I have traveled, family, biggest accomplishments, biggest regrets, careers and so much more. After two hours had past the waiter came to take our things and asked if she was my grandmother!! The entire cafe was in disbelief that this woman and I was the very first time we had ever met. 
I should have been traveling all of London - seeing the sights. But that single conversation in Cafe Tropez was the highlight of my entire trip. 
I hope you strike up a conversation with someone new soon too :) You never know what could happen... 
Love Is Brewing, 
Katy Kopstad
(Scroll to the end for the pics with Susan! hehe)